Platelet Rich Plasma (PRP) Skin Rejuvenation is often more frequently known by the popular names of "Vampire" or "True Blood" Skin Rejuvenation. PRP treatment is a very advanced natural approach in anti-aging facial and body rejuvenation that uses the patient's own blood cells. It has become a highly sought-after non-surgical procedure for facial and skin rejuvenation. PRP has a long history of being used in orthopedic medicine, dentistry and reconstructive surgery, and now its benefits are being applied to other fields of medicine such as dermatology, skin wound healing, hair restoration and facial rejuvenation.
Platelet Rich Plasma (PRP) is the concentrated part of the blood that contains the platelets which are fundamental to the body's ability to stop any bleeding and repair damaged blood vessels and cells. Platelets contain substances known as growth factors that activate and rejuvenate cells in order to generate new tissue.
Areas that can be treated using PRP Therapy are:
Thinning skin on the neck
Cheeks and mid-face
Around the eyes
Jaw line and the neighbouring area below the jaw
Arms
Back of hands
Chest and Décolletage
Regions with acne scarring
Regions of hair loss
Various other areas of the body
It is possible to perform PRP Skin Rejuvenation either as a separate individual treatment or in combination with other surgical and non-surgical procedures. It can safely be combined with several other rejuvenation treatments such as Dermal Fillers or autologous fat transfer, Botox wrinkle treatment and 8 Point Facelift.
PRP also assists with encouraging faster healing and to maintaining results when used in conjunction with and after surgical procedures such as Face Lift, Neck Lift, Eyelid Surgery (Blepharoplasty) and Nose Surgery (Rhinoplasty).
PRP Therapy can also be used in the medical treatment of male and female pattern baldness. Whether it is genetic, due to stress, bad haircare or any medical condition – hair loss is a prime concern for many men and women these days. PRP can be injected into the scalp to stimulate thin hair to grow into thicker hairs. Though PRP treatment yields great results for people suffering from hair loss, it's not for everyone.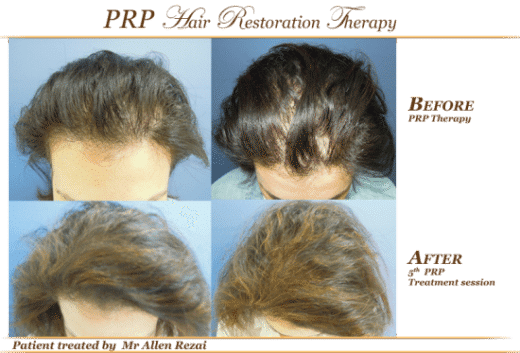 People who have lost all hair cannot undergo this treatment as it does not help grow new hair on a bald patch. It can only make the existing thinning hair thicker by strengthening the hair follicles. It is important to start PRP hair restoration treatment early on and whether you are a suitable candidate will be determined during your consultation.
Amount of treatment sessions and the interval varies depending on the severity of the hair loss.
The Latest From Allen Rezai M.D. Social Media
Recent Articles