You May have already heard of PROFHILO or Dermal Fillers, and know that they're both made up of Hyaluronic Acid, But Do You Know the Difference Between the Two? While both use the same component, Hyaluronic Acid, to produce beautiful results, they work very differently.
In this article we lay Bare the Difference Between PROFHILO & Dermal Fillers. Both procedures are two of our most sought-after injectable treatments. If after reading this article, you're still unsure of which option is best for you, Mr Allen Rezai will discuss your concerns and wishes with you during your consultation and guide you through the best possible treatment option to achieve your desired outcome.
What Is Hyaluronic Acid?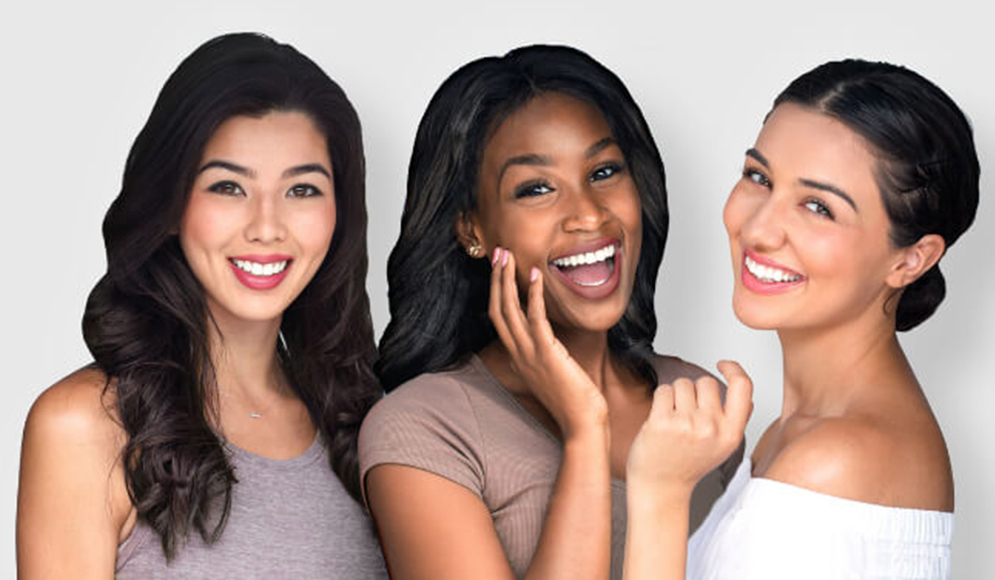 Hyaluronic Acid (HA) is powerful stuff. But don't let the word "acid" fool you. This gel-like water-holding molecule retains over 1,000 times its weight in water within the cells and helps keep skin plump and hydrated. Scientific studies have shown that HA helps improve skin hydration and production of collagen, fight free radicals, maintain skin elasticity, and even has antibacterial and anti-inflammatory properties that help with wound healing.
Hyaluronic Acid is actually something our bodies naturally produce so why do we need more HA you may ask?
Well, thanks to ageing, environmental aggressors, and choice of lifestyle, to name a few, the HA levels tend to take a bit of a dip. We start to lose the collagen and elastin that once kept our skin looking fresh, youthful and plumped up, so we need more to maintain a softer, smoother, more hydrated skin.
Sadly, HA is also metabolised by a naturally occurring enzyme in body, called Hyaluronidase. This is another reason why we may choose to boost the HA levels in specific areas of our face and body to maintain a softer and more rejuvenated skin.
About PROFHILO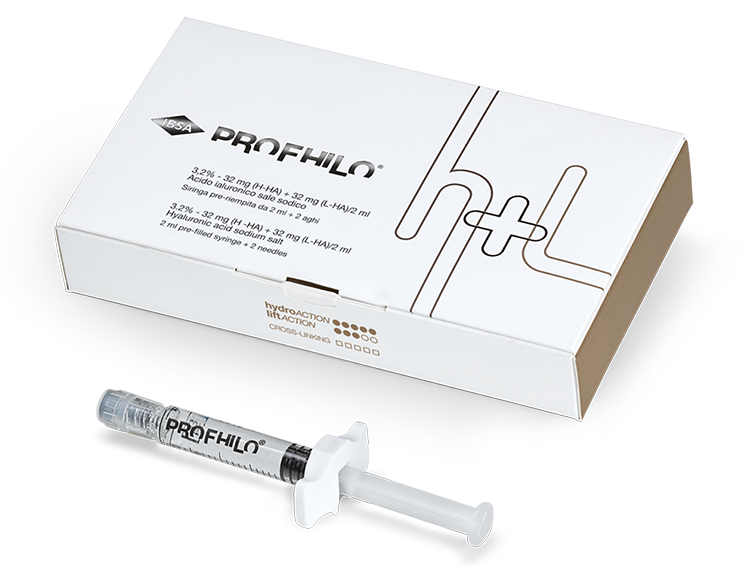 Containing a high dose of pure hyaluronic acid, PROFHILO is described as a "Bio-Rejuvenator" or "Tissue Stimulator" in that it offers fantastic hydration and at the same time stimulates the skin's fibroblast cells, boosting its natural production of collagen and elastin, improving the skin's structure by increasing firmness, smoothness and elasticity of the skin.
PROFHILO is strategically injected into area of concern and it flows and distributes itself evenly, integrating within the skin's tissue, acting as a "dermal scaffold". What makes it unique is the slow release of hyaluronic acid over a period of 4 weeks, during which it stimulates the body's natural production of all four different types of collagen and elastin in the skin, resulting in intense hydration and significant improvement in skin tone, texture and firmness.
We believe that ideally, prevention is better than cure i.e. it is best to take action sooner and prevent wrinkles from forming and becoming more entrenched. This helps to maintain the best results for longer and means there is less need for future treatment if good skin health can be maintained. Till date PROFHILO is the only injectable treatment that makes this possible.
Unlike other anti-ageing injectables out there, PROFHILO is an excellent option for the earlier prevention of lines, wrinkles, and loss of volume which makes this treatment even suitable for younger adults in their late 20s and early 30s.
A course of PROFHILO involves two injection sessions spaced 4-6 weeks apart. Normally improvements are noticed within 4 weeks after the 1st session, but optimal results can be seen 4 weeks after the 2nd treatment session. Maintenance sessions are recommended based on the individual's needs.
Most common areas treated with PROFHILO are Face and Neck but it can also be used effectively for crepey skin around knees, back of hands, upper arms, chest and décolletage.
About Dermal Fillers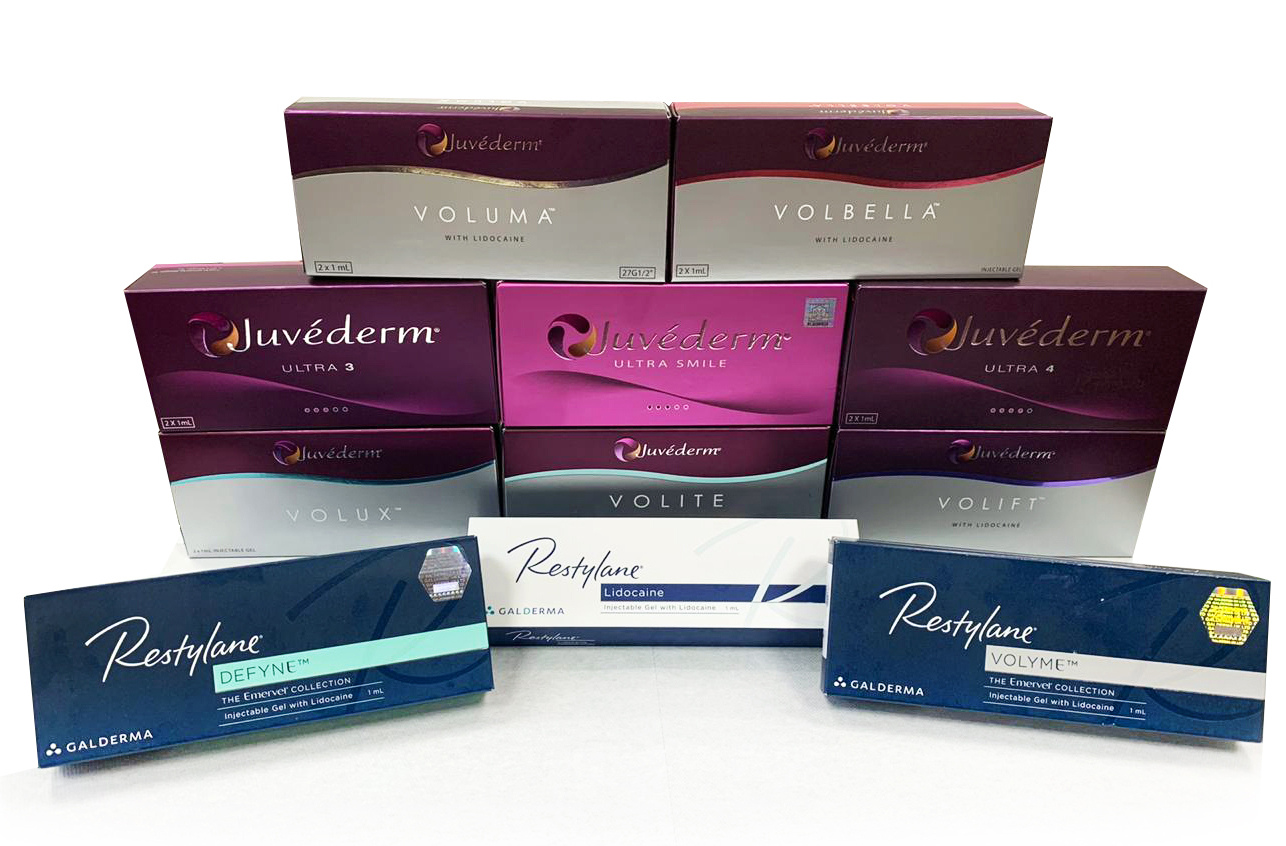 Most Dermal Fillers also tend to be Hyaluronic Acid based, other types are available, with additional ingredients included. However, the HA based fillers are the most popular and widely used option.
HA fillers are a gel-like substance that creates volume in the skin. Once injected, they begin to integrate into the substance of the skin, attracting water molecules and hydrating the surrounding tissue. The depth of injection and consistency of the filler dictates the results that will be achieved: deep injections with firm fillers create volume and shape to the face, mid-depth injections with medium-firm fillers reduce the appearance of creases, superficial injections into the dermis with soft fillers help to smooth out wrinkles, plump and hydrate the skin. The dermal filler will immediately plump up the treatment area and over a period of 2-4 weeks, will continue to attract water and settle. For this reason, best results are seen after the elapse of this time.
HA fillers are naturally metabolised by Hyaluronidase, a naturally occurring enzyme in the body over a period of time. The longevity of results with dermal fillers depends on a number of individual factors, such as filler composition, skin quality, hydration, metabolism and degree of muscular use within the treatment area, meaning that injections into areas of the face that move frequently during smiling, chewing, talking etc, do not last as long as those in other areas.
Sometimes the longevity of the fillers increases with the number of treatments – some research shows that repeated injections may help stimulate the body's own natural production of collagen, which also helps reduce the number of lines and wrinkles. There is also some evidence indicating that less filler is needed over time to achieve the same look
Fillers can be injected using a needle or a cannula. A cannula is a blunt tip tube whereas a needle has a sharp tip. Both techniques can be used to treat any part of the face, depending on the doctor's experience, preference and knowledge of anatomy.
In expert hands Dermal Fillers work exceptionally well and dramatic improvements can be produced, resulting in an astonishingly smoother, rejuvenated and balanced look to what was previously a tired, ageing or asymmetrical face.
PROFHILO vs. Fillers – The Difference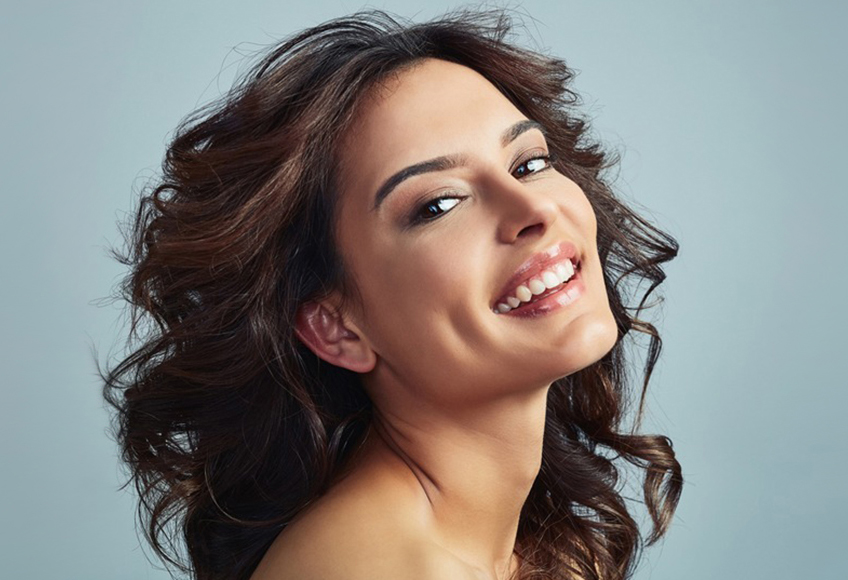 Although PROFHILO and dermal fillers are made up of hyaluronic acid, their characteristics and function differ in more ways than one. PROFHILO is a skin rejuvenator and doesn't change the structure of the face. Its formulation allows it to flow over an extended area to boost hydration and smooth and 'remodel' the skin. Whereas dermal fillers remain in the area they are placed in and restore loss of volume, enhance the facial structure and plump up deep lines and wrinkles in that area.
We believe that PROFHILO is complimentary to, rather than competitive with dermal fillers. They work exceptionally well together and dramatic improvements can be produced.
Many of our patients choose to combine PROFHILO with Fillers and other injectable procedures for an overall enhanced and rejuvenated appearance. Especially when they have poor skin texture, tone and hydration. We've actually noticed prolonged effects of filler treatments in some of our patients who combine these with PROFHILO – an added bonus!
PROFHILO or Dermal Fillers, Which Option Is Right For You?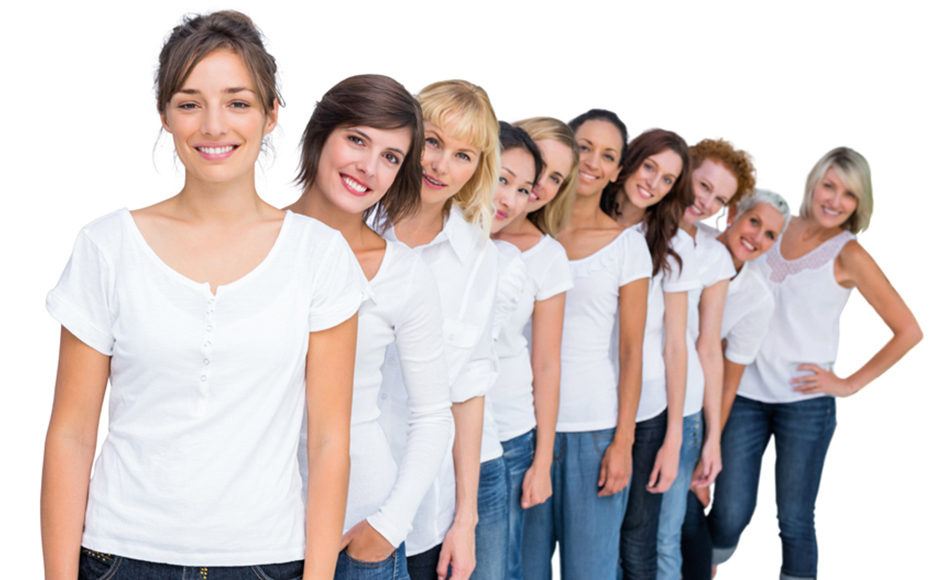 Each of these treatment options provide different approaches, so you may benefit more from one than the other or maybe, a combination of both. It all depends on you and your desired outcome. Choosing your treatment depends on the results you'd like to see and the concerns you'd like to address. If you have lost volume in a specific area and would like to see a more noticeable rejuvenation, then dermal fillers may be the best option for you. Because they alter the appearance of the specific facial features and areas they're injected in, creating a more enhanced or defined look. On the other hand, if you are noticing that your thinning, dull skin could do with an overall boost in its quality, glow, and laxity, then PROFHILO may be the best option for you.
During your Consultation, Mr Rezai will discuss your concerns and wishes with you and based on these and of course your medical history and lifestyle, they will create a bespoke treatment plan to help you achieve the best possible outcome.
The Do's & Don'ts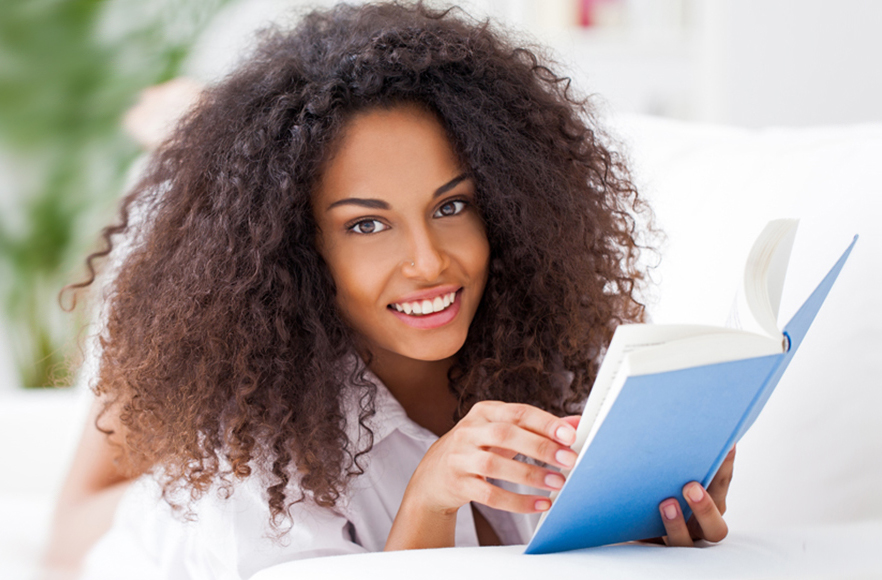 The do's & don'ts and before and after treatment instructions for PROFHILO & Filler Treatments are very similar. When you schedule your initial consultation with Mr Rezai, we will provide you with comprehensive pre- and post treatment care instructions. It is important that you know how to prepare for treatment and what to expect and how to take care of the area following treatment. By making sure you are prepared, you significantly reduce the risk of side effects and complications, especially if you're planning to undergo treatment straight after your initial consultation.
Here are some common DOs & DON'Ts when considering injectable treatments in general:
Always contact your Doctor if in doubt about any aspect of the pre-treatment preparation or post-treatment care.
PROFHILO vs. Fillers - A Summary
Profhilo
Indications: Skin laxity, crepey skin, dehydrated skin, dull skin, poor skin tone and texture.
Technology: Pure Hyaluronic Acid gel integrating within the skin's tissue, acting as a "dermal scaffold" and slowly releasing hyaluronic acid within the tissue over a period of 4 weeks. This mechanism stimulates the body's natural production of all four different types of collagen and elastin in the skin, resulting in intense hydration and significant improvement in skin tone, texture and firmness.
Applications: Face, Neck, Décolletage, Hands, Upper arms and Knees.
Effects: A course of PROFHILO treatment consist of 2 Sessions, 4-6 weeks apart. Effects are noticed about 4 weeks following initial session and final result is normally achieved 4 weeks after the 2nd session. Results vary depending on the individual's skin condition.
Lasts: 6 months, sometimes longer, depending on individual's skin condition.
Risks: Minimal to None. Most common side effects are injection-related, and these include temporary slight redness, bumps or swelling at the injection sites which normally resolve in a few hours. In some cases, this may last up to 24 hrs.
Notes: Due to its unique characteristics, PROFHILO can even benefit younger individuals, in their late 20s and early 30s where normally other injectable treatments would not be indicated. In these instances, it can have a more of a preventive effect by maintaining the skin's collagen and elastin, and by increasing its hydration.
Dermal Fillers
Indications: Loss of volume, facial asymmetry, sunken areas of case, facial profile asymmetry, loss of definitions in mid and lower face.
Technology: Hyaluronic acid dermal fillers are a natural skin-hydrating solution aiming to temporarily reverse these effects through direct injection of the filler into skin with the purpose of plumping that area to the point where the wrinkle, depression or fold is gone.
Applications: Tear troughs, Cheek structure, Nasolabial folds/laugh lines, Smokers lines/lipstick lines, Lips including cupid's bow and vermilion border, marionette lines/mouth frowns, Chin, Pre-jowl area and jawline, nose.
Effects: Immediate but will improve over 2-4 weeks
Lasts: Up to 3-18 months depending on the individual, treatment area and type of filler.
Risks: Potential risks and complications of Dermal Filler treatment are minimal, provided genuine quality fillers are used and the treatment is carried out by a qualified and experienced practitioner. Allergic reactions to the hyaluronic acid fillers are exceptionally rare since they are free from animal proteins and completely bio-compatible with the hyaluronic acid already in the human body.
Notes: In expert hands Dermal Fillers work exceptionally well and dramatic improvements can be produced, whether your concern is a specific area on your face or an overall rejuvenation. Through consultation and assessment is recommended to determine your suitability for this treatment.
Considering Cosmetic Injectable Treatments?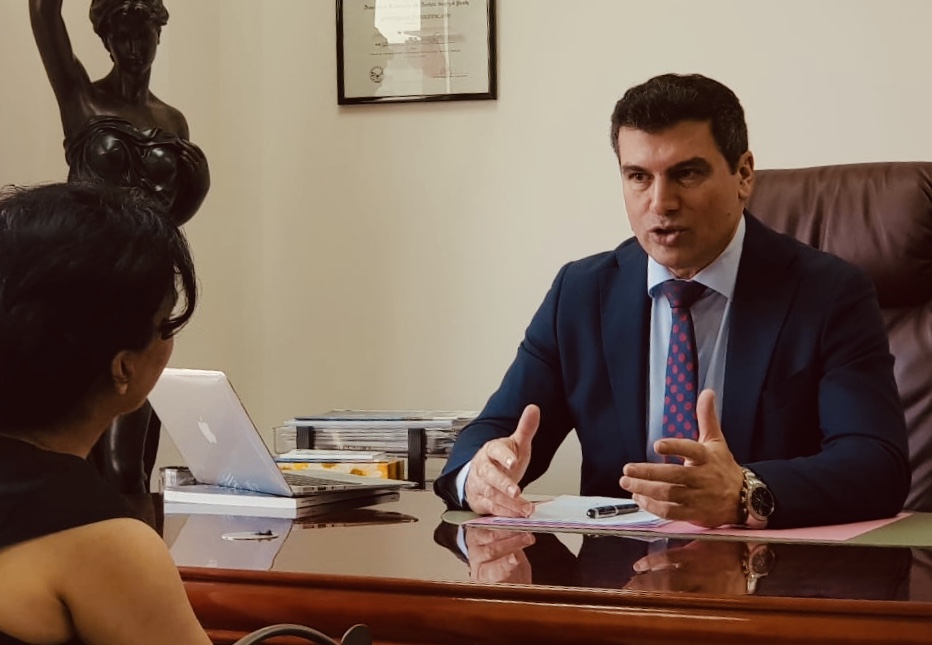 Many times, Aesthetic injectable treatments are better alternatives to more permanent types of procedures, such as surgical options. The great benefit of these treatments is that they enable you to get naturally youthful looking appearance but without the downtime that comes with surgery. With the right indications and correct treatment selection, remarkable results can be achieved.
However, before deciding whether to proceed with a treatment, a thorough initial consultation with a qualified doctor, discussing your medical history, your reasons for wanting treatment, and the type of result you should realistically expect, is a must. Furthermore, you should FULLY understand all aspects of the treatment, including pros and cons, risks and side effects, cost, and what you should expect in terms of recovery, results and maintaining the results, before proceeding.
The following advice is to help you along the way in your search.
Thoroughly research your Doctor/Clinic. Word of mouth and recommendations from people you know is usually the most reliable guide. Treatment should be carried out in a medical setting using sterile needles, cannulas and syringes.
A good Doctor will have a thorough initial consultation with you, check your medical history, discuss your reasons for wanting a specific treatment, cover all aspects of the procedure, including possible risks and complications, and provide you with a bespoke treatment plan to achieve the best possible outcome. Your Doctor should give you honest indication and advice on the results you should expect. You should always be given enough time to make an informed decision and you should NEVER feel rushed.
Beware of Cheap providers. Cheap procedures usually come at a price. It usually means the product is counterfeit, or administered by an inexperienced, non-qualified practitioner.
Make sure that you are aware of the product you are being injected with. During your treatment the sterile product should be taken out from a box. Everything should be transparent. You should be able to see exactly what is going on and what is being used.
Treatments should only be carried out in a clean, safe and appropriate clinical environment to avoid infection and permanent physical damage. Treatments should be carried out in a clinical facility and NOT in a home setting or, for example, a nail bar or tattoo parlour.
Aftercare is an important aspect of any treatment. You should always ask the doctor about the aftercare provided, especially if anything were to go wrong.
No Matter How Common Certain Treatments Have Become, it is still a cosmetic procedure with possible risks and side-effects and should not be taken lightly.
Never feel pressured into undergoing a treatment without fully understanding all the implications.
At Allen Rezai MD, All Procedures Are Tailored To Your Needs.
The Latest From Allen Rezai M.D. Social Media